Screening of Digital Stories by Young People in Romania
Monday 10th September at More Music, Morecambe
In July Global Link and Lancaster Boys and Girls Clubs took five local young people to Romania for a week of digital storymaking along with youth from three partner countries.

You are warmly invited to this event next Monday evening, 10th September, to see the films, meet the young people and hear more about their experiences. The bar will be open from 6pm and there will be snacks and an exhibition before the screening starts at 7pm.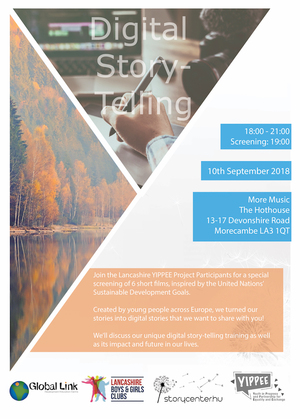 Refugee Week Celebration Event
Refugee Week is celebrated each year in the UK in the third week of June...
12/06/2020
Coronavirus (COVID-19): get support if you're a migrant living in the UK
For information, the government has just posted a new page on its GOV.UK...
29/04/2020
Global Link update
Because of Coronavirus most support services, including education, English, advice and information,...
24/03/2020
Sharing Learning from the Past with Youth in Europe
The Learning from the Past (LFTP) team is delighted to announce that we have been awarded funding f...
30/01/2020
Support the work
of Global Link DEC